Image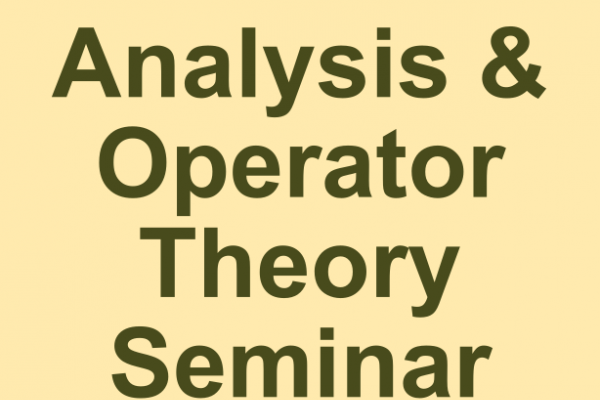 January 26, 2023
11:30AM - 12:30PM
Date Range
Add to Calendar
2023-01-26 11:30:00
2023-01-26 12:30:00
Quantum Markov semigroup and complete logarithmic Sobolev constant for tensor representation of SU(2)
Title:  Quantum Markov semigroup and complete logarithmic Sobolev constant for tensor representation of SU(2)Speaker:  Yidong Chen (University of Illinois Urbana-Champaign)Abstract:  Quantum Markov semigroups (QMS) are noncommutative generalizations of classical Markov semigroup, where the underlying probability spaces are replaced by operator algebras. Quantum Markov semigroups model open quantum systems weakly interacting with an environment. As such, they have received considerable attention from the community of quantum information science. One of the fundamental functional inequalities for QMS is the noncommutative analog of the (modified-)logarithmic Sobolev inequality ((M-)LSI). It is well-known that classical LSI (resp. MLSI) satisfies the so-called tensorization property. This property is crucial in showing the equivalence between LSI and Talagrand's concentration inequality. It turns out tensorization is not satisfied in general by the quantum analog of LSI and MLSI. One partial solution is to introduce the concept of a complete modified logarithmic Sobolev inequality (CLSI). This definition naturally satisfies tensorization property. Two central problems in the study of CLSI are: (1) obtain tight estimates of CLSI constant, and (2) calculate CLSI constant in realistic physics models. In this talk, we will focus on solving one instance of the second problem: the so-called Dicke's superradiance model in quantum optics. Mathematically, this model is intimately related to the tensor representation of SU(2). We will provide a framework to calculate the CLSI constant for this model. Using the same framework, we will also obtain CLSI constant for some other interesting models including models involving QMS on type III von Neumann algebras. The last example opens the door to study second quantized open quantum systems. This talk is based on the manuscript: https://arxiv.org/abs/2209.11099. URL associated with Seminar:  https://u.osu.edu/aots/ Zoom meeting:   https://osu.zoom.us/j/97032870581?pwd=K0dIeW9SV0NvSDlkbnZuVUQ4WkdVZz09 Meeting ID: 970 3287 0581 Password: Analysis
Zoom
OSU ASC Drupal 8
ascwebservices@osu.edu
America/New_York
public
Date Range
Add to Calendar
2023-01-26 11:30:00
2023-01-26 12:30:00
Quantum Markov semigroup and complete logarithmic Sobolev constant for tensor representation of SU(2)
Title:  Quantum Markov semigroup and complete logarithmic Sobolev constant for tensor representation of SU(2) Speaker:  Yidong Chen (University of Illinois Urbana-Champaign) Abstract:  Quantum Markov semigroups (QMS) are noncommutative generalizations of classical Markov semigroup, where the underlying probability spaces are replaced by operator algebras. Quantum Markov semigroups model open quantum systems weakly interacting with an environment. As such, they have received considerable attention from the community of quantum information science. One of the fundamental functional inequalities for QMS is the noncommutative analog of the (modified-)logarithmic Sobolev inequality ((M-)LSI). It is well-known that classical LSI (resp. MLSI) satisfies the so-called tensorization property. This property is crucial in showing the equivalence between LSI and Talagrand's concentration inequality. It turns out tensorization is not satisfied in general by the quantum analog of LSI and MLSI. One partial solution is to introduce the concept of a complete modified logarithmic Sobolev inequality (CLSI). This definition naturally satisfies tensorization property. Two central problems in the study of CLSI are: (1) obtain tight estimates of CLSI constant, and (2) calculate CLSI constant in realistic physics models. In this talk, we will focus on solving one instance of the second problem: the so-called Dicke's superradiance model in quantum optics. Mathematically, this model is intimately related to the tensor representation of SU(2). We will provide a framework to calculate the CLSI constant for this model. Using the same framework, we will also obtain CLSI constant for some other interesting models including models involving QMS on type III von Neumann algebras. The last example opens the door to study second quantized open quantum systems. This talk is based on the manuscript: https://arxiv.org/abs/2209.11099. URL associated with Seminar:  https://u.osu.edu/aots/ Zoom meeting:   https://osu.zoom.us/j/97032870581?pwd=K0dIeW9SV0NvSDlkbnZuVUQ4WkdVZz09 Meeting ID: 970 3287 0581 Password: Analysis
Zoom
Department of Mathematics
math@osu.edu
America/New_York
public
Description
Title:  Quantum Markov semigroup and complete logarithmic Sobolev constant for tensor representation of SU(2)

Speaker:  Yidong Chen (University of Illinois Urbana-Champaign)

Abstract:  Quantum Markov semigroups (QMS) are noncommutative generalizations of
classical Markov semigroup, where the underlying probability spaces are replaced by operator algebras. Quantum Markov semigroups model open quantum systems weakly interacting with an environment. As such, they have received considerable attention from the community of quantum information science. One of the fundamental functional inequalities for QMS is the noncommutative analog of the (modified-)logarithmic Sobolev inequality ((M-)LSI). It is well-known that classical LSI (resp. MLSI) satisfies the so-called tensorization property. This property is crucial in showing the equivalence between LSI and Talagrand's concentration inequality. It turns out tensorization is not satisfied in general by the quantum analog of LSI and MLSI. One partial solution is to introduce the concept of a complete modified logarithmic Sobolev inequality (CLSI). This definition naturally satisfies tensorization property. Two central problems in the study of CLSI are: (1) obtain tight estimates of CLSI constant, and (2) calculate CLSI constant in realistic physics models. In this talk, we will focus on solving one instance of the second problem: the so-called Dicke's superradiance model in quantum optics. Mathematically, this model is intimately related to the tensor representation of SU(2). We will provide a framework to calculate the CLSI constant for this model. Using the same framework, we will also obtain CLSI constant for some other interesting models including models involving QMS on type III von Neumann algebras. The last example opens the door to study second quantized open quantum systems. This talk is based on the manuscript: https://arxiv.org/abs/2209.11099.
URL associated with Seminar:  https://u.osu.edu/aots/
Zoom meeting:   https://osu.zoom.us/j/97032870581?pwd=K0dIeW9SV0NvSDlkbnZuVUQ4WkdVZz09
Meeting ID: 970 3287 0581
Password: Analysis
Events Filters:
---