Program Description
---
The Master of Actuarial and Quantitative Risk Management (MAQRM) is our newest graduate degree program inaugurated in 2016. It is based on a tremendously successful undergraduate degree program in actuarial science that our department has been offering for over 35 years.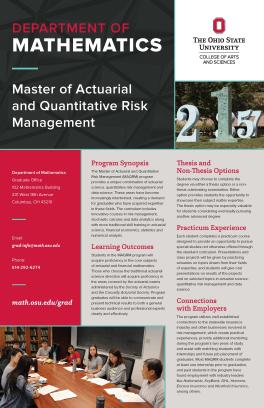 MAQRM provides a curriculum that combines training in modern mathematical finance and actuarial risk management - two areas that have become increasingly intertwined, creating a demand for graduates that have acquired expertise in both. The curriculum includes newly developed courses in risk management and financial stochastic calculus. In addition, students will be exposed to courses in actuarial science, financial economics, statistics, and numerical analysis.
The program utilizes well-established connections to the statewide insurance industry and other businesses involved in risk management in order to create practical experiences and provide additional mentoring during the two years of study in the program. These connections will also be instrumental in job placements of graduates. Past students in the program have found employment with industry leaders like Westfield Insurance, Motorists Insurance Group, Encova Insurance, Humana, and DHL. 
Our department does not provide funding for MAQRM students. Students accepted to the program will need to provide or obtain their own financial support. Please refer to the university's graduate Tuition and Fee Tables. Financial aid inquiries can be directed to OSU's Office of Student Financial Aid.
MAQRM Admissions Criteria
---
Requirements for the MAQRM program are:
4-year BS or BA degree, which should include courses taken in advanced calculus, calculus-based probability, statistics, and elementary economics
Working knowledge of a computer programming language is recommended
Background in Interest Theory (coursework or exams) is preferred
GPA of 3.0 or higher for the last undergraduate (or graduate) degree earned*
Students from non-English speaking countries need to have excellent English skills. TOEFL or IELTS scores must be submitted (not required for domestic students).**
GRE General Test or GMAT will generally not be considered for Spring or Autumn 2024 admission. If you have already taken the test, please do not self-report the scores to us. In exceptional circumstances students may have the option to report unofficially.
GRE Math Subject Test will generally not be considered for Spring Autumn 2024 admission. If you have already taken the test, please do not self-report the scores to us. In exceptional circumstances students may have the option to report unofficially.
List of Math Coursework created using the web application at: https://grad.math.osu.edu/open/booklist/enter_books.php (generate and download a course list PDF from this site, and then upload it to your admission application)
Three reference letters from writers qualified to judge the applicant's academic and professional abilities
CV and Statement of Purpose describing your background and professional goals
Background in actuarial science is ideal; however, we consider students with undergraduate majors in math, statistics, engineering, computer science, economics, business finance, or other related fields
* on a 4.0 scale, otherwise 75th percentile or better
**TOEFL scores are waived for applicants who complete a Bachelor's or Master's degree from a U.S.-based college prior to matriculation
MAQRM Prerequisites:
---
Incoming MAQRM students are expected to have completed courses equivalent to the following at OSU:
MULTIVARIABLE CALCULUS
THEORY OF INTEREST
PROBABILITY
MICRO- & MACROECONOMICS
INTRO TO COMPUTER PROGRAMMING
Sample Program
---
Exact degree requirements can be found under the MAQRM Current Students section of the website. An example of the typical courses a student in this program would take is included here.
YEAR 1
Autumn Semester Total Hours: 6 for degree, 9 overall

Course 1: STAT 6301 (3 cr. hrs.) Core
Course 2: MATH 5630 (3 cr. hrs.) AQRM Sequence
Course 3: MATH 3618 (UG 3 cr. hrs.) No Graduate Credit - Remedial

Spring Semester Total Hours: 9

Course 1: STAT 6302 (3 cr. hrs.) Core
Course 2: MATH 5631 (3 cr. hrs.) AQRM Sequence
Course 3: STAT 6540 (3 cr. hrs.) Sample Elective

Summer Semester Total Hours: 0
YEAR 2
Autumn Semester Total Hours: 9

Course 1: MATH 5632 (3 cr. hrs.) Core
Course 2: MATH 5633 (3 cr. hrs.) AQRM Sequence
Course 3: STAT 6560 (3 cr. hrs.) Sample Elective

Spring Semester Total Hours: 9

Course 1: MATH 5634 (3 cr. hrs.) AQRM Sequence
Course 2: MATH 6550 (3 cr. hrs.) Sample Elective
Course 3: MATH 5588 (3 cr. hrs.) Practicum in AQRM (Core) 
Total Class Hours: 30          Practicum Hours: 3
YEAR 1
Autumn Semester Total Hours: 9

Course 1: STAT 6301 (3 cr. hrs.) Core
Course 2: MATH 5632 (3 cr. hrs.) Core
Course 3: MATH 5633 (3 cr. hrs.) AQRM Sequence

Spring Semester Total Hours: 8

Course 1: STAT 6302 (3 cr. hrs.) Core
Course 2: MATH 5634 (3 cr. hrs.) AQRM Sequence
Course 3: STAT 5740 (2 cr. hrs.) Sample Elective

Summer Semester Total Hours: 0
YEAR 2
Autumn Semester Total Hours: 8

Course 1: MATH 5635 (3 cr. hrs.) AQRM Sequence
Course 2: STAT 6550 (2 cr. hrs.) Sample Elective
Course 3: STAT 6560 (3 cr. hrs.) Sample Elective

Spring Semester Total Hours: 9

Course 1: MATH 5636 (3 cr. hrs.) AQRM Sequence
Course 2: MATH 5588 (3 cr. hrs.) Practicum in AQRM (Core)
Course 3: MATH 6999 (3 cr. hrs.) Thesis Writing
Total Class Hours: 27          Practicum Hours: 3           Thesis Hours: 3