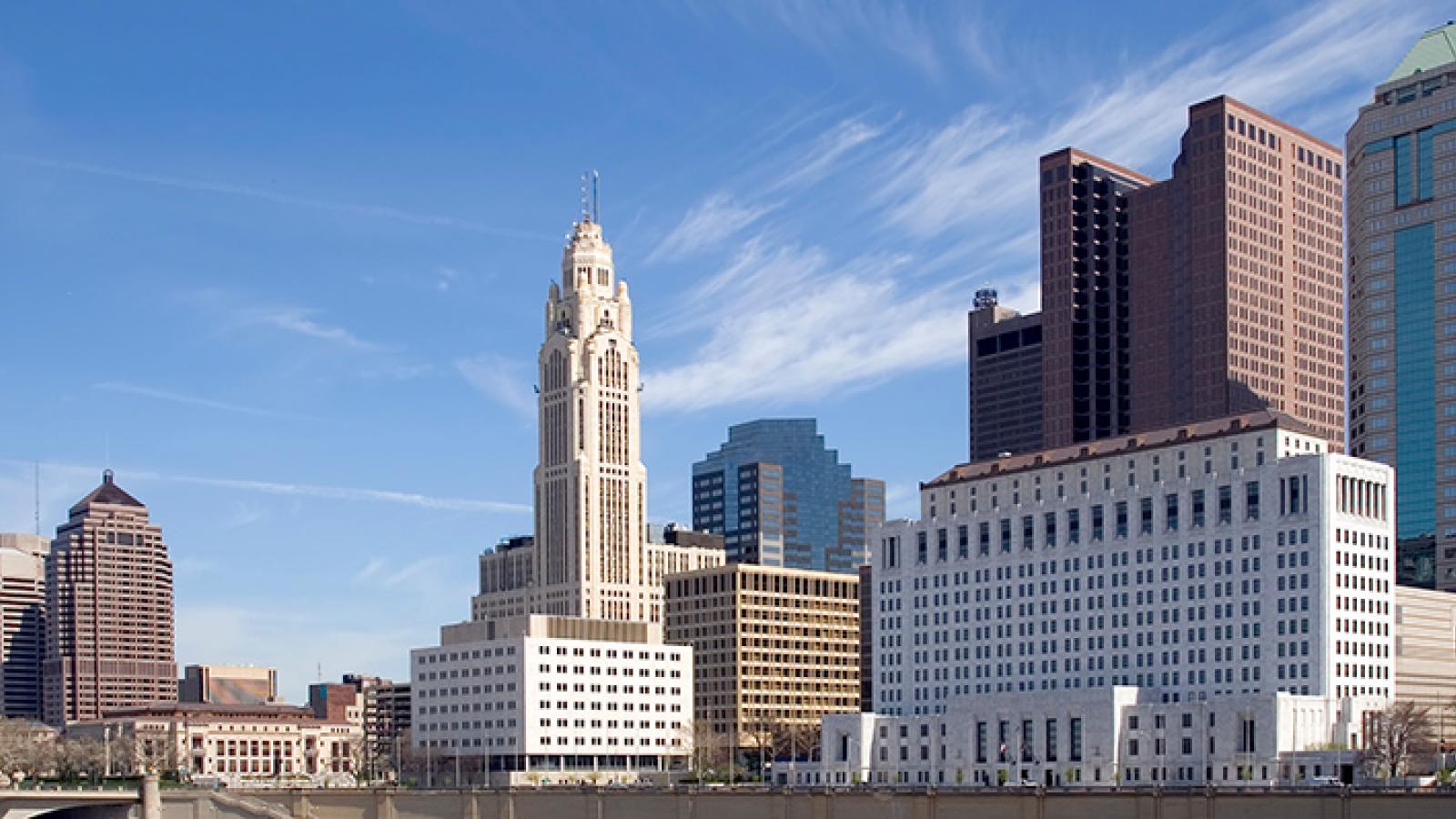 The capital of Ohio, Columbus has been recognized as one of the best cities for job seekers, the best state capitals to live in, and one of the most affordable U.S. cities. Columbus was recently selected as the winner of the $40 million Smart Cities grant from the U.S. Department of Transportation. 
With a metropolitan area population of over 2.0 million people, Columbus is anything but a small town. Comparable in size to more well-known cities such as Las Vegas, Charlotte, and San Antonio, Columbus has all the amenities, opportunities, and events that one would expect from a major city. Great restaurants, a thriving art scene, distinctive neighborhoods with diverse housing options, professional sports franchises, a bustling nightlife, abundant shopping, and access to many recreational and cultural opportunities are all integral to giving Columbus that "big city" atmosphere.
Yet in many ways, Columbus retains that "small town" feel. You'll find that, despite its size, Columbus is easy to get around in, incredibly affordable, and populated by friendly, outgoing people. Traffic is rarely a problem, and you won't typically find the endless lines, non-existent parking, and throngs of people that characterize many U.S. cities.
Columbus is a mainstay on a diverse list of city rankings as one of the top cities nationally for anything from millennials and tech jobs to logistics and e-commerce. Additionally, the city's lively sports and entertainment scene, craft beer reputation, and distinct neighborhoods make it a fun place to explore after work hours. The Columbus region also leads Midwest metros in population growth, job growth, and GDP growth. So is Columbus the best city in the Midwest? From companies to careers, to being a highly affordable city where your income stretches further, the evidence suggests that the answer is quite possibly yes. 
A 2023 ranking from the U.S. News and World Report ranked Columbus as the 69th best city to live in, based on quality of life and the job market in each metro area, as well as the value of living there and people's desire to live there. With an overall rating of 6.3 out of 10, the Buckeye state's capital received its best score in the value index with a 7.1 with good scores in housing affordability and overall affordability compared to other large metropolitan areas in the country.
Life in Columbus, OH
Ohio's capital is a friendly city of sleek, modern high-rises and century-old buildings along the banks of the Scioto River. In addition to being home to one of the finest universities in the nation, its attractions range from a rich visual and performing arts scene to a renowned zoo, exciting sports, fine restaurants, and enough specialty shops, outlets, and malls to satisfy even the most avid of browsers and buyers. Add to this a special-events calendar that rivals that of any other city its size, and you'll never lack things to do in Columbus.
Highlights include the Center of Science and Industry (COSI) on the west bank of the Scioto River; the Santa Maria replica docked on the downtown riverfront; three historic downtown theaters (the Ohio Theatre, the Palace, and the Great Southern); the Columbus Zoo; and a wide range of festivals and cultural events.
Sports enthusiasts can choose from a variety of professional and collegiate sports, including the Ohio State Buckeyes; the Columbus Crew (major league soccer); the Columbus Blue Jackets (NHL hockey); and the Columbus Clippers (AAA affiliate of the Washington Nationals). But sports fans aren't the only ones who will enjoy the fun and flavor of the Arena District. This area also offers some of the city's most delectable eateries and nightspots, as well as fine shops and convenient hotel accommodations.
In May 2023, Forbes Magazine recommended visiting Columbus, Ohio. "From a scrappy arts district supporting independent creatives to a convivial daytime nook celebrating a chef's Bengali-American roots, Columbus won me over big time with its diverse offerings and inclusive vibe where everyone is welcome."
Columbus has been named:
No.1 up-and-coming high-tech city (Forbes)
Top ten most livable city (CNN/Money Magazine)
No.1 best place to live, work and raise a family for African Americans (BET Networks)
The most intelligent city in the United States (Intelligent Community Forum)
One of the best U.S. cities for Millennial college students (USA Today)
Top-20 best U.S. city for young professionals (Forbes)
No. 3 most livable city in the US (Far & Wide)
Home of a top 25 LGBT-friendly campus - OSU (Campus Pride)
Additional Resources
Why Columbus, Ohio is the Perfect Place for Creatives and Makers
Contact
Prospective students: grad-info@math.osu.edu
Graduate Program Coordinator
Department of Mathematics (MA 102)
The Ohio State University
231 W. 18th Avenue
Columbus, Ohio 43210
United States of America                
Phone: (614) 292-6274
Fax: (614) 292-1479
---
[pdf] - Some links on this page are to .pdf files. If you need these files in a more accessible format, please email math@osu.edu. PDF files require the use of Adobe Acrobat Reader software to open them. If you do not have Reader, you may use the following link to Adobe to download it for free at: Adobe Acrobat Reader.