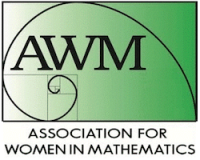 The Association for Women in Mathematics Student Chapter at Ohio State (AWM) was founded in autumn 2015 by female math students at Ohio State. Since its founding, AWM has grown from a few members to a roster filled with 30+ people and an executive board of 10, and both undergraduate and graduate math students regularly attend AWM events. AWM's mission is to support and encourage women to study and pursue careers in the mathematical sciences, while also promoting equal opportunity and treatment of women in math. The AWM student chapter works towards this goal by hosting various career information sessions, industry panels and social gatherings for the Ohio State math community.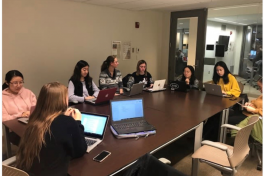 The AWM executive board meets about once a month to plan their events. Some of these events include general body meetings for fellow math students to meet each other and form connections. Such meetings have included a board game night, a showing of the film "Hidden Figures," and a Pi Day celebration.
The most popular types of events that AWM organizes are panels. Many math students express interest in math research and graduate school, but are unsure where to start. Thus, AWM planned a graduate school and research panel with graduate students Kriti Sehgal and Kritika Singhal, and Ross Assistant Professor Christina Osborne. Students were able to learn how to get involved in math research, how to apply for graduate school, and the differences between a graduate and undergraduate education.
Throughout the past year, AWM has formed partnerships with different organizations and people on campus. AWM paired with the Arts and Sciences Center for Career and Professional Success to organize events for math students that would help them in their search for math jobs after college. The first event was a resume and cover letter workshop. Students learned how to construct these important application pieces and were able to get their resumes edited by experts. The two organizations also joined with the group Math to Industry to host "Life Beyond Math Degree," a two-part series in which students were able to learn how to network and then apply those strategies to a panel of math alumni. Willa Del Negro Skeehan, AWM's former treasurer, one of its founding members and 2017 graduate of the Master's of Mathematical Sciences program in Math Biology, served as one of the panelists. Students were able to form connections and gain insight into the many different paths one can take with a math degree.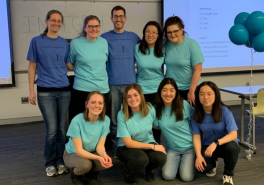 Another newly formed partnership for AWM was with Senior Lecturer Jim Talamo. Together, Talamo and AWM hosted Ohio State's first annual "Integral Bowl," in which over 70 students participated in a mathematical competition of solving integrals. Students competed in an individual round and a team round, and the top three performing individuals and top three teams were awarded with prizes. AWM and Talamo plan to hold the Integral Bowl each year.
Finally, AWM will finish the year off with an annual focus group for women in math. The focus group's purpose is to provide an environment where women are able to comfortably discuss their experiences studying math, discuss the current math culture at Ohio State and figure out ways that everyone can provide greater support. The first focus group was held last year as a suggestion from the Math Alumni Board. This first focus group had a positive impact on the Ohio State math community, as it informed people on how to make improvements on the math culture, led to the formation of a Diversity and Departmental Climate Committee, began work on a better undergraduate study space, and further promoted overall equity and inclusion. Due to its success, AWM will be hosting another focus group this year in April.
AWM's advisor is Professor Barbara Keyfitz, and the 2018-19 board consists of President Isabel Peña, Vice President Alice Davies, Treasurer Bella Scharff, and officers Amelia Guell, Kam McBride, Xiangni Peng, Bay Bryan, Bethany Lu, Yinuo Tan and Zhengxi Pan. The incoming officers for the 2019-20 academic year are President Bethany Lu, Treasurer Ashley Gan, Secretary Amelia Guell, Marketing and Social Media Director Bay Bryan and Event Coordinator Bella Scharff.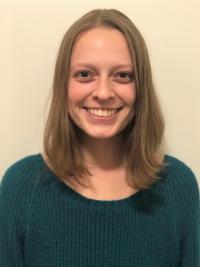 Article contributed by Isabel Peña
Isabel Peña was President of AWM in the 2018-19 academic year. She was a mathematics major in the education track, and graduated in 2019. She also completed a minor in clinical psychology and individual differences. Next year, she will begin pursuing a Master in Education (MEd) at Ohio State. She plans to teach high school mathematics.
---