Image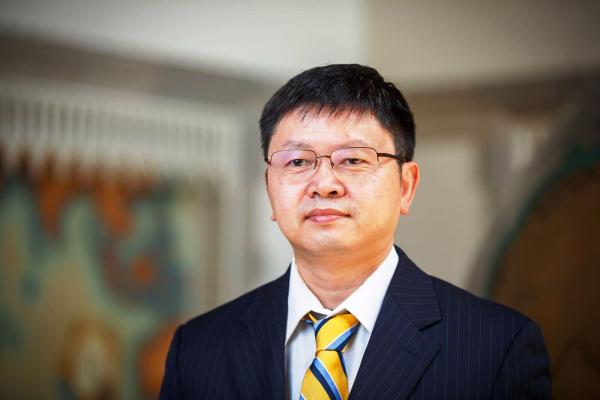 September 27, 2022
11:00AM - 11:59AM
Date Range
Add to Calendar
2022-09-27 11:00:00
2022-09-27 11:59:00
A Free Boundary Problem for modeling Plaques in the Artery – Recent progress
Title:  A Free Boundary Problem for modeling Plaques in the Artery – Recent progressSpeaker:  Bei Hu (Notre Dame)Speaker's URL:  https://www3.nd.edu/~b1hu/Abstract:  Atherosclerosis is a leading cause of death worldwide; it originates from a plaque which builds up in the artery. We considered a simplified model of plaque growth involving LDL and HDL cholesterols, macrophages and foam cells, which satisfy a coupled system of PDEs with a free boundary, the interface between the plaque and the blood flow. In an earlier work (with Avner Friedman and Wenrui Hao) of an extremely simplified model, we proved that there exist small radially symmetric stationary plaques and established a sharp condition that ensures their stability. In our recent work (with Evelyn Zhao), we look for the existence of non-radially symmetric stationary solutions. The absent of an explicit radially symmetric stationary solution presents a big challenge to verify the Crandall-Rabinowitz theorem; through asymptotic expansion, we extend the analysis to establish a finite branch of symmetry-breaking stationary solutions which bifurcate from the radially symmetric solutions. Since plaque is unlikely to be strictly radially symmetric, our result would be useful to explain the asymmetric shapes of plaque. Our recent work (with Yaodan Huang, Xiaohong Zhang, Zhengce Zhang) extends to other possible shapes as well as more realistic modeling efforts. URL associated with Seminar:  https://research.math.osu.edu/pde/
MW 154
OSU ASC Drupal 8
ascwebservices@osu.edu
America/New_York
public
Date Range
Add to Calendar
2022-09-27 11:00:00
2022-09-27 11:59:00
A Free Boundary Problem for modeling Plaques in the Artery – Recent progress
Title:  A Free Boundary Problem for modeling Plaques in the Artery – Recent progress Speaker:  Bei Hu (Notre Dame) Speaker's URL:  https://www3.nd.edu/~b1hu/ Abstract:  Atherosclerosis is a leading cause of death worldwide; it originates from a plaque which builds up in the artery. We considered a simplified model of plaque growth involving LDL and HDL cholesterols, macrophages and foam cells, which satisfy a coupled system of PDEs with a free boundary, the interface between the plaque and the blood flow. In an earlier work (with Avner Friedman and Wenrui Hao) of an extremely simplified model, we proved that there exist small radially symmetric stationary plaques and established a sharp condition that ensures their stability. In our recent work (with Evelyn Zhao), we look for the existence of non-radially symmetric stationary solutions. The absent of an explicit radially symmetric stationary solution presents a big challenge to verify the Crandall-Rabinowitz theorem; through asymptotic expansion, we extend the analysis to establish a finite branch of symmetry-breaking stationary solutions which bifurcate from the radially symmetric solutions. Since plaque is unlikely to be strictly radially symmetric, our result would be useful to explain the asymmetric shapes of plaque. Our recent work (with Yaodan Huang, Xiaohong Zhang, Zhengce Zhang) extends to other possible shapes as well as more realistic modeling efforts. URL associated with Seminar:  https://research.math.osu.edu/pde/
MW 154
Department of Mathematics
math@osu.edu
America/New_York
public
Description
Title:  A Free Boundary Problem for modeling Plaques in the Artery – Recent progress

Speaker:  Bei Hu (Notre Dame)

Speaker's URL:  https://www3.nd.edu/~b1hu/

Abstract:  Atherosclerosis is a leading cause of death worldwide; it originates from a plaque which builds up in the artery. We considered a simplified model of plaque growth involving LDL and HDL cholesterols, macrophages and foam cells, which satisfy a coupled system of PDEs with a free boundary, the interface between the plaque and the blood flow. In an earlier work (with Avner Friedman and Wenrui Hao) of an extremely simplified model, we proved that there exist small radially symmetric stationary plaques and established a sharp condition that ensures their stability. In our recent work (with Evelyn Zhao), we look for the existence of non-radially symmetric stationary solutions. The absent of an explicit radially symmetric stationary solution presents a big challenge to verify the Crandall-Rabinowitz theorem; through asymptotic expansion, we extend the analysis to establish a finite branch of symmetry-breaking stationary solutions which bifurcate from the radially symmetric solutions. Since plaque is unlikely to be strictly radially symmetric, our result would be useful to explain the asymmetric shapes of plaque. Our recent work (with Yaodan Huang, Xiaohong Zhang, Zhengce Zhang) extends to other possible shapes as well as more realistic modeling efforts.
URL associated with Seminar:  https://research.math.osu.edu/pde/
Events Filters:
---