Image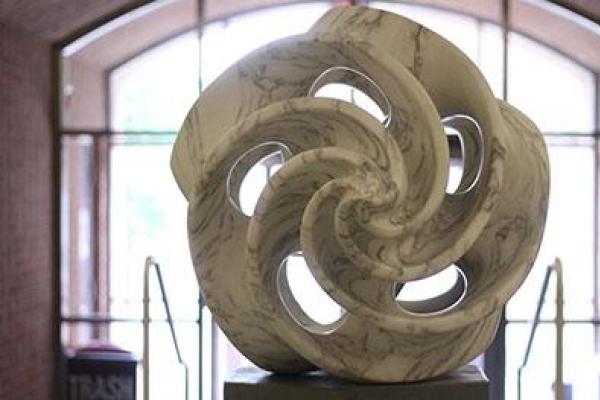 March 1, 2021
4:15PM - 5:15PM
Location
email organizers for Zoom link
Date Range
Add to Calendar
2021-03-01 16:15:00
2021-03-01 17:15:00
Properness of Hilbert modular eigenvarieties
Speaker:  Lynnelle Ye (Stanford University) Title:  Properness of Hilbert modular eigenvarieties Speaker's URL:  https://lynnelle.github.io/ Abstract:  Can a family of finite-slope modular Hecke eigenforms lying over a punctured disc in weight space always be extended over the puncture? This was first asked by Coleman and Mazur in 1998 and settled (in the affirmative) by Diao and Liu in 2014 using deep, powerful Galois-theoretic machinery. We will discuss a generalization of this result to Hilbert modular eigenvarieties for totally split primes. We do not use Diao-Liu's method. Instead we adapt an earlier method of Buzzard and Calegari based on elementary properties of overconvergent modular forms, building on recent work of Ren-Zhao for the boundary of weight space and Hattori for algebraic weights. URL associated with Seminar https://research.math.osu.edu/numbertheory/
email organizers for Zoom link
OSU ASC Drupal 8
ascwebservices@osu.edu
America/New_York
public
Date Range
Add to Calendar
2021-03-01 16:15:00
2021-03-01 17:15:00
Properness of Hilbert modular eigenvarieties
Speaker:  Lynnelle Ye (Stanford University) Title:  Properness of Hilbert modular eigenvarieties Speaker's URL:  https://lynnelle.github.io/ Abstract:  Can a family of finite-slope modular Hecke eigenforms lying over a punctured disc in weight space always be extended over the puncture? This was first asked by Coleman and Mazur in 1998 and settled (in the affirmative) by Diao and Liu in 2014 using deep, powerful Galois-theoretic machinery. We will discuss a generalization of this result to Hilbert modular eigenvarieties for totally split primes. We do not use Diao-Liu's method. Instead we adapt an earlier method of Buzzard and Calegari based on elementary properties of overconvergent modular forms, building on recent work of Ren-Zhao for the boundary of weight space and Hattori for algebraic weights. URL associated with Seminar https://research.math.osu.edu/numbertheory/
email organizers for Zoom link
Department of Mathematics
math@osu.edu
America/New_York
public
Description
Speaker:  Lynnelle Ye (Stanford University)
Title:  Properness of Hilbert modular eigenvarieties

Speaker's URL:  https://lynnelle.github.io/

Abstract:  Can a family of finite-slope modular Hecke eigenforms lying over a punctured disc in weight space always be extended over the puncture? This was first asked by Coleman and Mazur in 1998 and settled (in the affirmative) by Diao and Liu in 2014 using deep, powerful Galois-theoretic machinery. We will discuss a generalization of this result to Hilbert modular eigenvarieties for totally split primes. We do not use Diao-Liu's method. Instead we adapt an earlier method of Buzzard and Calegari based on elementary properties of overconvergent modular forms, building on recent work of Ren-Zhao for the boundary of weight space and Hattori for algebraic weights.
URL associated with Seminar
https://research.math.osu.edu/numbertheory/
Events Filters:
---