Image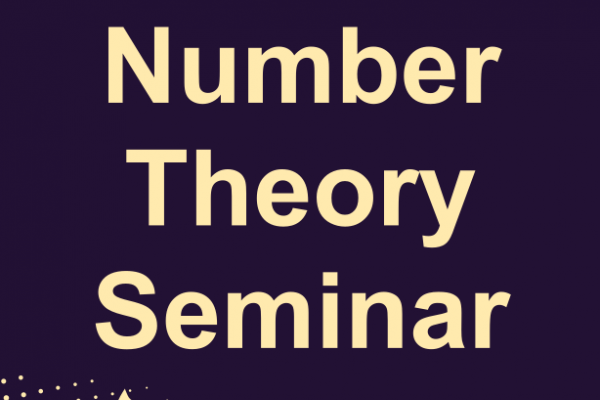 November 28, 2022
4:00PM - 5:00PM
Date Range
Add to Calendar
2022-11-28 16:00:00
2022-11-28 17:00:00
Quadratic Chabauty: geometric and explicit
Title:  Quadratic Chabauty: geometric and explicitSpeaker:  Juanita Duque Roser (Dartmouth)Speaker's URL:  https://math.dartmouth.edu/~jduque/Abstract:  Geometric quadratic Chabauty is a method, pioneered by Edixhoven and Lido ['21], whose goal is to determine the rational points on a nice curve X. The main tools that this method uses are p-adic analysis and Gm-torsors over the Jacobian of X. In this talk, I will give an overview of the method, focusing on explicit computations. I will also present a comparison theorem to the (original) method for quadratic Chabauty. Finally, we will look at a specific example of a modular curve where the method of geometric quadratic Chabauty can be used. This is joint work with Sachi Hashimoto and Pim Spelier. URL associated with Seminar:  https://research.math.osu.edu/numbertheory/
CH 218
OSU ASC Drupal 8
ascwebservices@osu.edu
America/New_York
public
Date Range
Add to Calendar
2022-11-28 16:00:00
2022-11-28 17:00:00
Quadratic Chabauty: geometric and explicit
Title:  Quadratic Chabauty: geometric and explicit Speaker:  Juanita Duque Roser (Dartmouth) Speaker's URL:  https://math.dartmouth.edu/~jduque/ Abstract:  Geometric quadratic Chabauty is a method, pioneered by Edixhoven and Lido ['21], whose goal is to determine the rational points on a nice curve X. The main tools that this method uses are p-adic analysis and Gm-torsors over the Jacobian of X. In this talk, I will give an overview of the method, focusing on explicit computations. I will also present a comparison theorem to the (original) method for quadratic Chabauty. Finally, we will look at a specific example of a modular curve where the method of geometric quadratic Chabauty can be used. This is joint work with Sachi Hashimoto and Pim Spelier. URL associated with Seminar:  https://research.math.osu.edu/numbertheory/
CH 218
Department of Mathematics
math@osu.edu
America/New_York
public
Description
Title:  Quadratic Chabauty: geometric and explicit

Speaker:  Juanita Duque Roser (Dartmouth)

Speaker's URL:  https://math.dartmouth.edu/~jduque/

Abstract:  Geometric quadratic Chabauty is a method, pioneered by Edixhoven and Lido ['21], whose goal is to determine the rational points on a nice curve X. The main tools that this method uses are p-adic analysis and Gm-torsors over the Jacobian of X. In this talk, I will give an overview of the method, focusing on explicit computations. I will also present a comparison theorem to the (original) method for quadratic Chabauty. Finally, we will look at a specific example of a modular curve where the method of geometric quadratic Chabauty can be used. This is joint work with Sachi Hashimoto and Pim Spelier.
URL associated with Seminar:  https://research.math.osu.edu/numbertheory/
Events Filters:
---