Image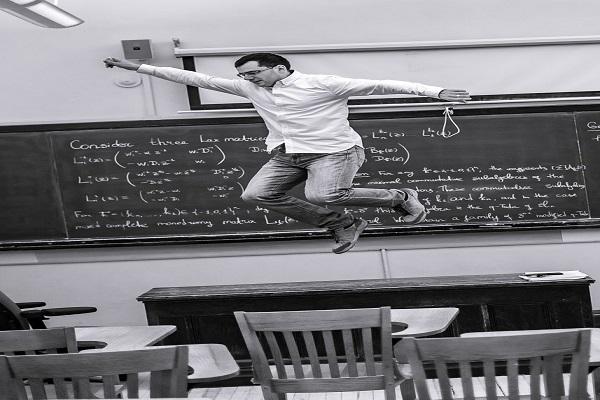 April 14, 2021
4:15PM - 5:15PM
Date Range
Add to Calendar
2021-04-14 16:15:00
2021-04-14 17:15:00
Quantum loop groups and shuffle algebras via Lyndon words
Speaker:  Oleksandr Tsymbaliuk (Purdue University) Title:  Quantum loop groups and shuffle algebras via Lyndon words Speaker's URL:  https://www.math.purdue.edu/~otsymbal/ Abstract:  Classical q-shuffle algebras provide combinatorial models for the positive half U_q(n) of a finite quantum group. We define a loop version of this construction, yielding a combinatorial model for the positive half U_q(Ln) of a quantum loop group. In particular, we construct a PBW basis of U_q(Ln) indexed by standard Lyndon words, generalizing the work of Lalonde-Ram, Leclerc and Rosso in the U_q(n) case. We also connect this to Enriquez' degeneration A of the elliptic algebras of Feigin-Odesskii, proving a conjecture that describes the image of the embedding U_q(Ln) ---> A in terms of pole and wheel conditions. Joint work with Andrei Negut. URL associated with Seminar https://research.math.osu.edu/reps/
Online
OSU ASC Drupal 8
ascwebservices@osu.edu
America/New_York
public
Date Range
Add to Calendar
2021-04-14 16:15:00
2021-04-14 17:15:00
Quantum loop groups and shuffle algebras via Lyndon words
Speaker:  Oleksandr Tsymbaliuk (Purdue University) Title:  Quantum loop groups and shuffle algebras via Lyndon words Speaker's URL:  https://www.math.purdue.edu/~otsymbal/ Abstract:  Classical q-shuffle algebras provide combinatorial models for the positive half U_q(n) of a finite quantum group. We define a loop version of this construction, yielding a combinatorial model for the positive half U_q(Ln) of a quantum loop group. In particular, we construct a PBW basis of U_q(Ln) indexed by standard Lyndon words, generalizing the work of Lalonde-Ram, Leclerc and Rosso in the U_q(n) case. We also connect this to Enriquez' degeneration A of the elliptic algebras of Feigin-Odesskii, proving a conjecture that describes the image of the embedding U_q(Ln) ---> A in terms of pole and wheel conditions. Joint work with Andrei Negut. URL associated with Seminar https://research.math.osu.edu/reps/
Online
Department of Mathematics
math@osu.edu
America/New_York
public
Description
Speaker:  Oleksandr Tsymbaliuk (Purdue University)
Title:  Quantum loop groups and shuffle algebras via Lyndon words

Speaker's URL:  https://www.math.purdue.edu/~otsymbal/

Abstract:  Classical q-shuffle algebras provide combinatorial models for the positive half U_q(n) of a finite quantum group. We define a loop version of this construction, yielding a combinatorial model for the positive half U_q(Ln) of a quantum loop group. In particular, we construct a PBW basis of U_q(Ln) indexed by standard Lyndon words, generalizing the work of Lalonde-Ram, Leclerc and Rosso in the U_q(n) case. We also connect this to Enriquez' degeneration A of the elliptic algebras of Feigin-Odesskii, proving a conjecture that describes the image of the embedding U_q(Ln) ---> A in terms of pole and wheel conditions. Joint work with Andrei Negut.
URL associated with Seminar
https://research.math.osu.edu/reps/
Events Filters:
---