Image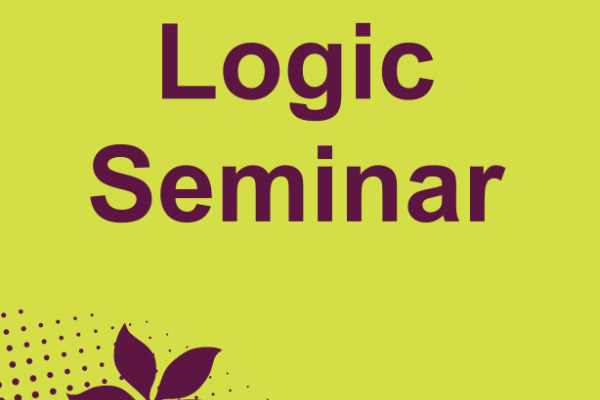 March 21, 2023
2:30PM - 3:25PM
Date Range
Add to Calendar
2023-03-21 14:30:00
2023-03-21 15:25:00
The universal *-regular R-ring
Title:  The universal *-regular R-ringSpeaker:  Sonia L'Innocente (University of Camerino)Abstract:  Olivier's construction of the universal commutative (von Neumann) regular ring over a commutative ring is generalized to obtain the universal *-regular ring over a noncommutative ring (R, *) with involution. The construction of a universal *-regular ring proceeds similarly with the Moore–Penrose inverse replacing the role of the group inverse in the construction of universal abelian regular rings. The involution of (R, *) induces an involution on the modular lattice L(R, 1) of positive primitive formulae in the language of left R-modules. It is shown that *-regular ring coordinatizes the quotient lattice of L(R, 1) modulo the least congruence for which the involution designates an orthogonal complement. Some explicit examples will be given in the context of some algebras, as the Jacobson algebra. This is joint work with Ivo Herzog. URL associated with Seminar:  https://research.math.osu.edu/logicseminar/
Enarson 354
OSU ASC Drupal 8
ascwebservices@osu.edu
America/New_York
public
Date Range
Add to Calendar
2023-03-21 14:30:00
2023-03-21 15:25:00
The universal *-regular R-ring
Title:  The universal *-regular R-ring Speaker:  Sonia L'Innocente (University of Camerino) Abstract:  Olivier's construction of the universal commutative (von Neumann) regular ring over a commutative ring is generalized to obtain the universal *-regular ring over a noncommutative ring (R, *) with involution. The construction of a universal *-regular ring proceeds similarly with the Moore–Penrose inverse replacing the role of the group inverse in the construction of universal abelian regular rings. The involution of (R, *) induces an involution on the modular lattice L(R, 1) of positive primitive formulae in the language of left R-modules. It is shown that *-regular ring coordinatizes the quotient lattice of L(R, 1) modulo the least congruence for which the involution designates an orthogonal complement. Some explicit examples will be given in the context of some algebras, as the Jacobson algebra. This is joint work with Ivo Herzog. URL associated with Seminar:  https://research.math.osu.edu/logicseminar/
Enarson 354
Department of Mathematics
math@osu.edu
America/New_York
public
Description
Title:  The universal *-regular R-ring

Speaker:  Sonia L'Innocente (University of Camerino)

Abstract:  Olivier's construction of the universal commutative (von Neumann) regular ring over a commutative ring is generalized to obtain the universal *-regular ring over a noncommutative ring (R, *) with involution. The construction of a universal *-regular ring proceeds similarly with the Moore–Penrose inverse replacing the role of the group inverse in the construction of universal abelian regular rings.

The involution of (R, *) induces an involution on the modular lattice L(R, 1) of positive primitive formulae in the language of left R-modules. It is shown that *-regular ring coordinatizes the quotient lattice of L(R, 1) modulo the least congruence for which the involution designates an orthogonal complement.

Some explicit examples will be given in the context of some algebras, as the Jacobson algebra. This is joint work with Ivo Herzog.
URL associated with Seminar:  https://research.math.osu.edu/logicseminar/
Events Filters:
---