What is the Alliance?
The National Alliance for Doctoral Studies in the Mathematical Sciences, known as the Math Alliance, is a community of mentors and scholars working to ensure every underrepresented or underserved American student with talent and ambition has an opportunity to earn a doctoral degree in a mathematical science. 
Professor and Vice Chair Thomas Kerler has played a key role in in the Department of Mathematics' collaboration with the Math Alliance. He works with the alliance's directors, Philip Kutzko and David Goldberg, to facilitate the department's recognition as a Doctoral Program Group (DPG). Part of the DPG proposal required the department to increase the community of support for doctoral students. 
 "This implemented our first-year mentoring program for new PhD students, which has definitely helped students better adjust to graduate studies," Kerler said. "The obvious hope is that our affiliation with the alliance allows us to provide a better environment and support for students and faculty from diverse backgrounds and, more generally, enhance diversity in our department."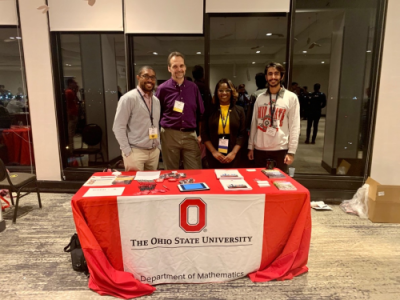 The annual Field of Dreams Conference, of which Kerler takes part in, is a key component of participation in the Math Alliance. Ross Assistant Professor of Mathematics Ranthony A.C. Edmonds and Assistant Professor and Academic Program Specialist John H. Johnson Jr. recently joined Kerler at the conference to promote the department. Edmonds was involved with the Math Alliance as a graduate student at the University of Iowa, and Johnson attended for the first time in 2018. 
This Math Alliance started in 2001 as an initiative between graduate program groups from the University of Iowa, Iowa State University and the University of Northern Iowa, along with scholars from four historically black colleges and universities. It now includes 45 mathematical science graduate program groups and over 800 active scholars. It has received National Science Foundation support throughout its tenure and was the 2017 recipient of the Mathematics Programs that Make a Difference Award by the American Mathematical Society. 
How Can I Participate in the Math Alliance? 
Edmonds was excited to learn of Ohio State's affiliation with the Math Alliance upon arriving in 2018, and he is excited for other faculty to get on board. She says the simplest way to getting involved is to become a Math Alliance mentor.
Twenty-two Ohio State faculty members are alliance mentors — 16 in the Department of Mathematics, one in the Department of Statistics and five in the College of Public Health's Division of Biostatistics. Becoming a mentor adds faculty to a network of scholars who can be contacted by underrepresented and underserved students with similar research interests and who are interested in learning more about graduate school. Mentors can also nominate students to be Alliance Scholars and attend the Field of Dreams Conference.
 "I think it's important for faculty to know that nominating students is extremely easy, but the benefits for the students are substantial," John said.
Undergraduate math major Larenz Coles and master's student Enrique Gomez-Leos attended the 2019 Field of Dreams Conference.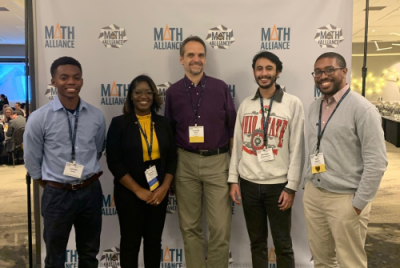 "I found the conference to be an excellent opportunity for students who are interested in continuing to explore their math education at the doctoral level," Gomez-Leos said. "I had the pleasure of speaking candidly to faculty and students from a diverse collection of universities and in doing so, learning more about the culture of mathematics — a culture I wish to continue to be a part of." 
Gomez-Leos is part of the Facilitated Graduate Application's Process (F-GAP), a Math Alliance program that assists prospective students with the graduate school application process. This includes giving feedback on the personal statement, offering course suggestions for the final year before graduate study and suggesting possible graduate programs where students are likely to succeed and be supported. Faculty are encouraged to nominate students to the F-GAP program or to become F-GAP mentors themselves.
Kerler says involvement with the Math Alliance also provides a resourced network for faculty and staff interested in learning about approaches to diversity or who are interested in improving their mentoring skills. This network also provides the department a platform to reach a more diverse applicant pool for its graduate program and postdoctoral positions. 
Departmental Strides Toward Diversity

The department's affiliation with the Math Alliance as a Gold Star Member is timely in a period where many new initiatives related to diversity, inclusion and outreach are being implemented. These include the formation of the BAMM Program, the Directed Reading Program, the Diversity and Climate Committee, the ROMMS REU, and an AWM Chapter to name a few.

Faculty are encouraged to participate in these existing programs or to establish new programs that prioritize mentorship and building mathematical community, particularly those that will serve underrepresented and underserved students within the department.
---