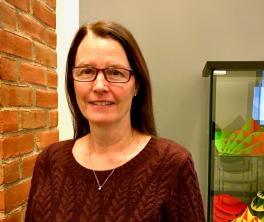 Sandy Masters is Program Coordinator in the Department of Mathematics who has been with the department for nine years. She is program coordinator of the Mathematics Research Institute, which supports research interactions in our department such as seminars and conferences, and she assists with the Sampling Advanced Mathematics for Minority Students (SAMMS) program. Masters enjoys her involvement with SAMMS and seeing the love young students have for math.
Masters graduated cum laude with distinction, earning a BS in natural resource development from the College of Food, Agricultural and Environmental Sciences' School of Environment and Natural Resources in 1980. Having grown up in an era of environmental awareness, studying environmental issues was an easy decision. Her advisor, Dr. Robert Vertrees, encouraged her to expand her studies and ultimately to start her research on the need and implementation of legislation for the control of toxic substances. This opportunity enabled her to work in the water industry, where she helped engineers and scientists in their efforts to protect the water supply. This collaboration in the environmental field has been particularly useful in her current role assisting math faculty coordinate research interactions and visits. 
A loyal Buckeye, several generations of Masters' family have a total of 16 degrees from Ohio State. She met her husband in Ohio Stadium during graduation when they both received degrees in natural resource development. They have enjoyed long careers in the natural resource field. Their son has music degrees from the University of Cincinnati – College-Conservatory of Music and Northwestern University, and he is an orchestra teacher and conductor near Chicago, where he lives with his wife and three children. Their daughter has degrees from Ohio State and Cornell University, and she is a city planner in Arkansas, where her husband is working on his MFA at the University of Arkansas. Masters is very proud of her family for what they bring to the world.
Masters and her husband spend most of their time together keeping track of their home, spending time with their parents and keeping in touch with their children. She enjoys reading and playing piano with her husband, who plays the trumpet. Music has kept her family happy for many years.
Having seen Ohio State transform since the 1970s, Masters is most impressed with the depth and breadth of subjects that can be studied at one university. She would like to thank Distinguished University Professor of Mathematics Avner Friedman for all that has been offered to her in the department. 
---